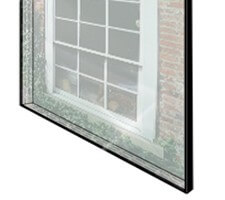 BuyGlass Slim Premium Eco Light Heritage Part 2 & 3 / 14.00mm thickness / Satin Float / U-Value – 1.2
2
ex VAT per m
A+ Rating*
Glass U-Value ~1.2
Xenon Gas
Warm Edge Spacer
14.00mm Overall Thickness
Float Glass
Satin
Panels over 2.5m2 must be Priced as over size panels and may incur extra costs. please contact us.
Laminated Glass - Minimum Charge 0.5m2 (per panel)
Toughened / Float Glass - Minimum Charge 0.3m2(per panel)
Glass Sightline:

8.5mm

Panel 1 Thickness:

4mm

Panel 1 Toughened / Float:

Float

Panel 1 Type:

Clear SoftCoat

Panel 2 Thickness:

4mm

Panel 2 Toughened / Float:

Float

Panel 2 Type:

Satin

Spacer Colour:

Black

Spacer Thickness:

6mm

U-Value:

U-value 1.2
Description
Additional information
Glass Guide
Description
Energy Rating (Unit Only)
A+ Rating*
This Unit
SKU:460-4/6/4-Clear SoftCoat/Warm Edge/Satin
BuyGlass Slim Premium Eco Light Heritage Part 2 & 3
Overall Thickness: 14.00mm
U-Value:~1.2
Pane 1:
4mm Float Clear SoftCoat HP Low E Glass
Spacer Bar:
6mm thick Black Warm Edge bar with 8.5mm sightline
Pane 2:
4mm Float Satin
Price per m2 £644.274 ex VAT (£773.13inc)
Heritage double glazing is ultra-slim, low-profile double glazing with an overall thickness of 10-14 mm. It is either filled with argon, krypton gas, Xenon gas or a mixture of. Both can be retrofitted into narrow rebates of original sash or casement wooden window frames.
With new glazing systems such as slim double-glazed units, historic buildings can now improve energy efficiency without needing to install bulky secondary glazing or replace the original windows for new double-glazed windows.
BuyGlass Heritage Glass range is creating a workable balance between the conservation of period buildings and the provision of energy efficient and comfortable homes which has long been an issue for Architects, Planners, Conservation Officers and home owners.
HIGH SPECIFICATION:
• Conform to BS EN 1279/Part 2, Part 3
• Can achieve as low as 1.2 U value
• Can meet new Document L building regulations, subject to confirmation via "whole window" calculator tool
• Can be supplied with low E, Restoration (reproduction Crown), toughened, laminated or may other special types of glass.
Additional information
| | |
| --- | --- |
| Weight | 20 kg |
| Glass Sightline | |
| Spacer Thickness | |
| Spacer Colour | |
| Gas Filler | |
| Model | |
| Panel 1 Thickness | |
| Panel 1 Type | |
| Panel 1 Toughened / Float | |
| Panel 2 Thickness | |
| Panel 2 Type | |
| Panel 2 Toughened / Float | |
| Overall Unit Thickness | |
| U-Value | |
BuyGlass.Co pride ourselves on creating a beautiful end product. With edge polishing there are a few things to consider before you purchase & when evaluating the glass you receive.
Depending on the process used, the edge finish can vary slightly between panels. All BuyGlass.Co edge polishing is finished to an exceptional standard and fully QC'd before release.
If you require a uniform finish across all pieces then please contact us after the order is placed.
Otherwise we will process the polishing using whichever process we choose, and although generally this would mean all glass uses the same polishing technique there are certain times when we may use various methods.
---
We use multiple methods for creating laminated glass. CIP, SGP, PVB & EVA are totally different processes which produce very similar results. CIP however, due to the injection process, has a faint area at the perimeter which can be seen upon closer inspection.
** WE GENERALLY USE PVB **
If you would prefer any particular method then you must let us know prior to production or else, at our discretion, we will use any method.
---