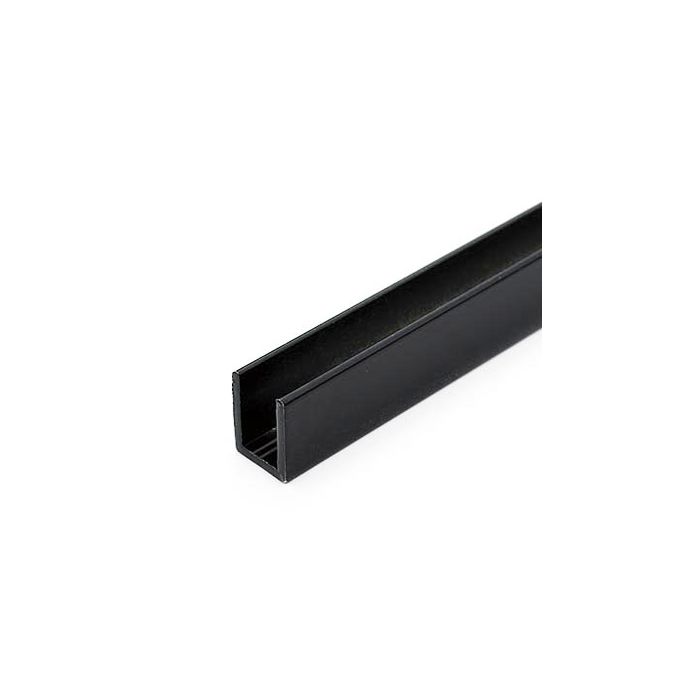 Gloss Black U Channel for 8mm Glass Shower Screens
£27.60 ex VAT
Panels over 2.5m2 must be Priced as over size panels and may incur extra costs. please contact us.
Laminated Glass - Minimum Charge 0.5m2 (per panel)
Toughened / Float Glass - Minimum Charge 0.3m2(per panel)
Description
Glass Guide
Reviews (0)
Description
The Gloss Black U Channel for 8mm Glass Shower Screens is a chic and reliable choice for those intending to install or remodel their shower screens. This product offers a secure grip for 8mm glass panels, guaranteeing stability and safety, while its gloss black finish introduces a sophisticated and modern element to your bathroom.
Key Features:
Superior Quality Material: Made from high-quality material, this U Channel displays a gloss black finish. This not only provides your shower screen with a modern and sleek look, but it also offers excellent resistance against moisture and corrosion, keeping your bathroom fittings durable and long-lasting.
Designed for 8mm Glass: Specifically made to accommodate 8mm glass panels, this U Channel provides a secure fit and steady structure, making it a versatile solution for diverse shower screens.
Simple Installation: The installation process is straightforward with this U Channel. Simply place the U Channel, insert the glass panel, and secure it. The design ensures a stress-free setup.
Stylish Appearance: The gloss black finish provides a sophisticated and high-end appearance, adding a touch of luxury to any bathroom decor.
Durability: This U Channel is not just about looks. Its sturdy construction is designed to last, withstand daily use, and resist wear and tear.
Safety: This U Channel offers a secure installation of your shower screen, ensuring safety for you and your family.
The Gloss Black U Channel for 8mm Glass Shower Screens is an excellent choice for those looking for a premium, durable, and aesthetically pleasing solution for their shower screen installations. It effortlessly blends practicality with style, making it a stunning addition to any bathroom.
BuyGlass.Co pride ourselves on creating a beautiful end product. With edge polishing there are a few things to consider before you purchase & when evaluating the glass you receive.
Depending on the process used, the edge finish can vary slightly between panels. All BuyGlass.Co edge polishing is finished to an exceptional standard and fully QC'd before release.
If you require a uniform finish across all pieces then please contact us after the order is placed.
Otherwise we will process the polishing using whichever process we choose, and although generally this would mean all glass uses the same polishing technique there are certain times when we may use various methods.
---
We use multiple methods for creating laminated glass. CIP, SGP, PVB & EVA are totally different processes which produce very similar results. CIP however, due to the injection process, has a faint area at the perimeter which can be seen upon closer inspection.
** WE GENERALLY USE PVB **
If you would prefer any particular method then you must let us know prior to production or else, at our discretion, we will use any method.
---