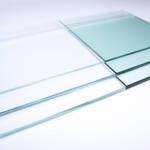 8mm Low Iron Toughened Glass Calculator | Free Radius, Holes, Polishing, Delivery**
£165.00 - £330.00 / per m2 ex VAT
Buy bespoke cut Low Iron Toughened Glass Cut to Size | 8mm thick
FREE EDGE POLISHING
FREE HOLES**
FREE RADIUS CORNERS
FREE DELIVERY**
Opt: Ritec Self Cleaning, Shaping, Sandblasting, Layer Printing, Back Painting
Panels over 2.5m2 must be Priced as over size panels and may incur extra costs. please contact us.
Laminated Glass - Minimum Charge 0.5m2 (per panel)
Toughened / Float Glass - Minimum Charge 0.3m2(per panel)
Glass Thickness:

8mm

Glass Type:

Clear Low Iron Toughened
Description
Additional information
Glass Guide
Description
Buy Glass supplies Pilkington Optiwhite, 8mm Low Iron Toughened, which is glass with a lower content of iron eliminates the greenish colour of standard float glass. The glass can be used almost anywhere traditional float glass has been used, particularly where the light is increased, solar power reduced and the crystal clear appearance is needed.
8mm Low Iron Toughened glass is suitable for the removal of the colour of glass to accentuate application or decorative treatment. Tight tolerances provide limited variance in colour edges over different sizes and thicknesses of glass.
Buy Glass 8mm Low Iron Toughened glass is 4 to 5 times stronger than annealed glass of the same 8mm thickness and is best designed for the most important applications for protection.
Because of its increased strength, Low Iron Toughened Glass allows architects and builders far greater scope in their use of glass in buildings.
8mm Low Iron Toughened glass is produced to BS EN 12150, the product is a a soda lime silicate glass intended to be used in buildings and construction work.
8mm Low Iron Toughened Glass is manufactured by subjecting cut to size panes of glass to a heating and cooling treatment whereby high compressive stresses are set up at the surfaces with balancing tensile stresses in the centre.
The high compressive surface stresses give the glass its increased strength i.e toughened glass.
When / if broken 8mm Low Iron Toughened glass will break into lots of small usually blunt pieces making it much safer than annealed (untoughened) glass which breaks in to large usual sharp pieces.
What are the uses for Super Clear Low Iron Toughened Glass?
Facade Glass
Glass Doors
Architectural Glazing
Handrails & Balustrade Glass
Lifts & Elevator Glass
Shelves
Shop Windows
Skylights
Kitchen Splashback Glass
Pool Surround Glass
Partitioning Glass
Table Top Glass
Shelve Glass
Aquarium Glass
You, the specifier, are responsible for checking with building control and/or other regulatory bodies to ensure that 8mm Low Iron Toughened and the fitting are suitable for your specific project. We are a supply only company.
Additional information
| | |
| --- | --- |
| Dimensions | 1000 × 1000 × 8 mm |
| Glass Type | |
| Glass Thickness | |
| Safety Glass | |
| Min Handling | |
| Max Handling | |
| Unit Price Base Measurement | |
| Unit Price Measurement | |
BuyGlass.Co pride ourselves on creating a beautiful end product. With edge polishing there are a few things to consider before you purchase & when evaluating the glass you receive.
Depending on the process used, the edge finish can vary slightly between panels. All BuyGlass.Co edge polishing is finished to an exceptional standard and fully QC'd before release.
If you require a uniform finish across all pieces then please contact us after the order is placed.
Otherwise we will process the polishing using whichever process we choose, and although generally this would mean all glass uses the same polishing technique there are certain times when we may use various methods.
---
We use multiple methods for creating laminated glass. CIP, SGP, PVB & EVA are totally different processes which produce very similar results. CIP however, due to the injection process, has a faint area at the perimeter which can be seen upon closer inspection.
** WE GENERALLY USE PVB **
If you would prefer any particular method then you must let us know prior to production or else, at our discretion, we will use any method.
---